HUDA PLOTS IN LAXMI VIHAR NALLAGANDLA HYDERABAD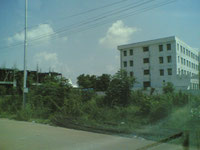 VILLAS IN LAXMI VIHAR NALLAGANDLA
GATED COMMUNITY.
267 SQ Y DUPLEX VILLA IN LAXMI VIHAR PHASE 2 NALLAGANDLA
N/F--2600 SFT--6 YERAS OLD
RATE--2.10 CR
HUDA 175 SQ Y PLOT IN LAXMI VIHAR PHASE 1 NALLAGANDLA
W/F-80 K PER SQ Y
REF:-AMEEN LINGAM
very serious buyers only may contact-- +91 9848169502.
NOTE:--ring us only one day before,not more than that,
if u want to see the particular property physically.