HMDA PLOTS IN SULTANPUR VILLAGE AMEENPUR MANDAL HYDERABAD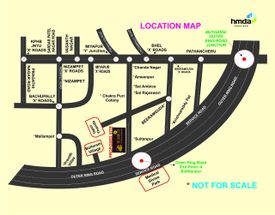 HMDA PLOTS IN SULTANPUR VILLAGE AMEENPUR MANDAL HYDERABAD
LAYOUT NAME IS SPRING CITY. OPP MEDICAL DEVICES PARK.
NEAR ORR EXIT POINT NO 4. WALKABLE DISTANCE FROM 500 FEET ORR
13 KM TO JNTU AT KPHB. 8 KM FROM BHEL X ROADS.
200,400,600 SQ Y PLOTS AVILABLE.
RATE--30-35 K PER SQ Y
REF-YV RAMANA
NOTE;--ring us only one day before,not more than that,
if u want to see the particular property physically.
very serious buyers only may contact-- +91 9848169502.