PLOTS FOR SALE IN SHAMSHABAD HYDERABAD
HUDA AUCTIONED RE SALE PLOTS ON ORR SHAMSHABAD HYDERABAD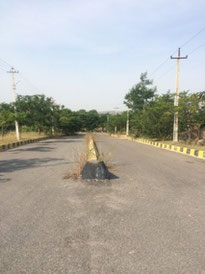 HUDA PLOTS FOR SALE IN TONDPALLE ORR NEAR RALLAGUDA SHAMSHABAD HYDERABAD
IT IS HUDA AUCTIONED LAYOUT RINGTOWN FACING ORR SERVICE ROAD.SHAMSHABAD MANDAL.
3 KM FROM BANGALORE HIGHWAY TOWRDS GACHIBOWLI ROAD.
125,157,250,258,400,700,1200 SQ Y PLOTS IN HUDA COLONY.
BLACK TOP ROADS,TWO WATER TANKS ALSO CONSTRUCETD BY HMDA.
CLEAR TITLE AND ELIGIBLE FOR BANK LOANS.USEFUL FOR INVESTMENT ONLY.
RATE--25-35 K PER SQ Y
REF-R-VENKATESH
NOTE:--ring us only one day before,not more than that,
if u want to see the particular property physically.

very serious buyers only may contact-- +91 9848169502
4720 SQ Y PLOT IN GAGANPAHAD
ZONE-GDPZ
RATE-20 K PER SQ Y
REF-BAVANAM