HUDA PLOTS IN CMC LAYOUT KONDAPUR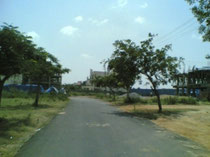 COMMERCIAL PLOT IN CMC LAYOUT KONDAPUR
550 SQ Y PLOT--N/S--1.60 LAKHS PER SQ Y
550 SQ Y PLOT--N/S--1.60 LAKHS PER SQ Y
REF-SHIEK SAJID
HUDA CMC LAYOUT IS NEAR TO CHIRAC PUBLIC SCHOOL.IT IS HUDA FINAL APPROVED LAYOUT.
IT IS VERY NEAR TO PEARL VILLAGE GATED COMMUNITY.
CLEAR TITLE AND READY FOR CONSTRUCTION.
very serious buyers only may contact-- +91 9848169502.
NOTE:--ring us only one day before,not more than that,
if u want to see the particular property physically.
NOTE:-IF YOU WANT TO SELL SIMILAR PROPERTY,
KINDLY SMS OR E-MAIL FULL DETAILS.
ONLY "OWNERS" ARE REQUESTED TO CONTACT.