PLOTS IN GACHIBOWLI HOUSING BOARD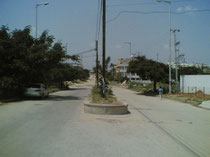 PLOTS IN GACHIBOWLI HOUSING BOARD.HYD
235 SQ Y HOUSE IN HOUSING BOARD GACHIBOWLI HYDERABAD
N/F--38.5X55--VEDISULA OR VEDIPOTU OR ROAD HIT.
G/F--1500 SFT--16 YEARS OLD
RATE--80 K PER SQ Y.D 
253 SQ Y PLOT IN GACHIBOWLI HB HYD
S/F--38X59--NEAR TO DLF.
RATE--80 K PER SQ Y.
very serious buyers only may contact-- +91 9848169502.
NOTE:--ring us only one day before,not more than that,
if u want to see the particular property physically.
NOTE:-IF YOU WANT TO SELL SIMILAR PROPERTY,
KINDLY SMS OR E-MAIL FULL DETAILS.
ONLY "OWNERS" ARE REQUESTED TO CONTACT.