DTCP PLOTS AT TIMMAPURAM IN KAKINADA.A.P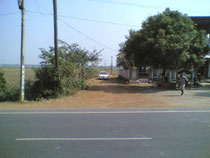 DTCP PLOTS AT TIMMAPURAM IN KAKINADA.A.P
2 K.M FROM ACHAMPETA JUNCTION.
10 L.P NUMBERS LIKE--74/98.10/2000 ETC..,
LAYOUTS ARE ONE K.M FROM KAKINADA TO VIZAG ROAD.
200,300,400,600 SQ Y PLOTS FOR SALE.
CLEAR TITLE AND READY FOR REGISTRATION.
RATE--8500 TO 9500 PER SQ Y.
very serious buyers only may contact-- +91 9848169502.
NOTE:--ring us only one day before,not more than that, 
if u want to see the particular property.