DTCP APPROVED PLOTS ON NH-214 AT PANDURU IN KAKINADA.A.P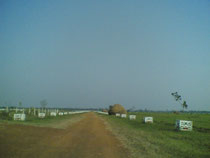 DTCP APPROVED PLOTS ON NH-214 AT PANDURU IN KAKINADA.A.P
2 K.M FROM ACHAMPETA JUNCTION.
COMPOUND WALL IS CONSTRUCTED FOR LAYOUT.
LAYOUT IS FACING KAKINADA TO VIZAG ROAD.
200,300,400,600 SQ Y PLOTS FOR SALE.
PLANTATION IS ALSO DONE ALONG ROADS WITH TREE GUARDS.
CLEAR TITLE AND READY FOR REGISTRATION.
ELECTRICITY IS GIVEN SOON
RATE--8500 TO 9500 PER SQ Y.
350 SQ Y PLOT NEAR PANDRWADA CENTER NEAR PANDURU
E/F-53X60
RATE-8 K PER SQ Y
REF:-SRINIVAS RAYUDU
DTCP PLOTS IN SAI SAGAR NEAR PANDURU KAKINADA
3 KM TO NH-216 HIGHWAY
160 AND 200 SQ Y PLOTS AVAILABLE
RATE-9000 PER SQ Y
REF:-G SATYA KUMAR JCH
GUDA PLOTS IN AYRA BRIDGE TOWN GOLLAPROLU
NEAR BYPASS ROAD NH-216
134,140,180,200 SQ Y PLOTS
RATE-9500 PER SQ Y
REF:-G SATYA KUMAR JCH
very serious buyers only may contact-- +91 9848169502.
NOTE:--ring us only one day before,not more than that, 
if u want to see the particular property.